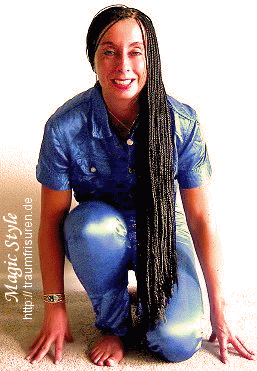 Magic Style Braiding Atelier
The Specialists for African Braiding in Germany
Unfortunately we are not able to maintain a complete English version of our German homepage - it is simply too work extensive. A German proverb states "a picture says more than a thousand words" and, fortunately, we do actually have a ton of pictures and videos available on our homepage. Therefore, we decided if we just give our English speaking visitors a little guidance, they might be able to enjoy our photo galleries and services anyway.
Who are we?
Magic Style is a hair braiding salon located in Germany specializing in African Hair Braiding, weaving, locking, relaxing and hair extensions. We also offer braiding classes and sell hair and skin care products. We are originally from Eastern Africa. Our braiders learned to braid hair when they were little kids; therefore, it is not so unbelievable at all that on average they can look back on 30 years of braiding experience with all types of hair. If you are looking for a good place to get your hair braided in Germany, you should check us out. Our clients come from all parts of Germany and even from Switzerland and Austria. We speak German and English fluently.
Where are we?
We are located in the southeastern part of Germany in the State of Baden-Württemberg, about 1 hour away from Stuttgart. Here is our address:
Leingarten is a suburb of the city of Heilbronn in the State of Baden Württemberg located in the Southeastern part of Germany near Stuttgart. To see our maps and driving instructions, click here.
How do I get an appointment?
Please email us or call +49 (0)7131 576860 for an appointment. We have flexible working hours, depending on the workload and the time schedule of our clients. If you want to be sure "we are in", give us a short ring. Of course we offer you an consultation appointment free of charge.
I have a long way to drive to you, can I have a consultation online or on the phone?
Of course! Just call us or write an email and we will be happy to answer all your questions. You can also chat with us, directly from our homepage! There is a chat icon like the one on the one above on the lower left corner of every page. Just click it!

Also don't forget to visit our extensive photo albums! You can request information

about every hair style on our homepage simply by first clicking on the icon of the photo you are interested in and then on the link "Infos Anfordern" (= request information) in the new window containing the enlarged photo. This will automatically create an email. You may add the request to get an answer in English to this email. We will send you the information you requested along with the picture(s) within 48 hours. Please print those pictures you are interested in and bring them with you to your appointment. Remember the German proverb: A picture says more than a thousand words..
I don't speak German - how do I get around your homepage ?
Well, most of our homepage consists of photos and information about African-American hair styles. Germans tend to not be very familiar with those hair styles while people of African (American) background usually know "what is what". You might be mostly interested in being able to judge the quality of our work by checking out our customer photos and of course pick your dream hairdo (Traumfrisuren means Dream Hair Styles). Therefore, I believe a few explanations and links will get you quite far:
Prices: http://preise.magicstyle.de
A bit of German vocabulary for you:
Rastazöpfe = Individual Braids. The price depends on the number and length of the braids.
Glätten = relaxing hair
All other expressions referring to hair styles on this page are already English.
Discounts:
Children and students get a 15% discount. You need to bring proof of your age or enrollment in a school.
We also have monthly special offers: Sonderangebote
All our photoalbums and videos
Magic Style Customer Photos
Photos from Magazines and other sources
Stars with Braids
My Photo - photos send in by homepage visitors
Alecia Keys' Cornrows
The Magic Style Team
Videos:
Here is a video introduction to the Magic Style Braiding Atelier:


Please visit the Magic Style Channel on YouTube for hundreds of more videos of our work!
Other useful links:
What's New at Magic Style?
The Magic Style Shop
Magic Style Braiding courses for professionals
The Magic Style Forum - Post your questions and suggestions!
We are able to create every hair style you find in our albums! If you bring a photo from another source or have special wishes - no problem! Just let us know!